It's all too common that iPhone users face issues with filling the storage on their devices. Like a Mac, an iPhone will slow to a crawl when its internal storage is full. And the way many folks listen to podcasts, this is a heavy user.
iPhone Storage
I encourage you to monitor your usage and learn how to manage your data. Visit Settings > General > iPhone Storage.
The histogram at the top may be of little help, especially if a good portion is "Other," meaning not among the primary categories specified. Instead, wait patiently for the full list of apps and media to appear below, in descending usage order.
Podcast Settings
In Settings > Podcasts, you'll find the primary podcast settings, which are about as straightforward as the ones in iTunes, reviewed last week:
Your subscriptions sync with among your devices, new episodes download periodically, and episodes fully played are deleted automatically.
If you're accumulating too many episodes or want more control, try setting manual refresh and/or turn off auto-download.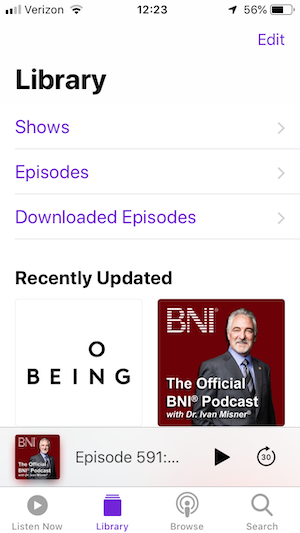 Podcast Library
The Podcasts app makes it quick and easy to listen to podcast episodes based on your subscriptions. As discussed last week, episodes you hear to their very end get deleted automatically.
You can view whole shows among your subscriptions, see and download specific episodes you want to hear, or see just downloaded episodes.
Delete Episodes
If podcasts are taking up too much space on your device, you may want to unsubscribe to shows you're not consuming or delete episodes manually. Unfortunately, if you have a lot, this is a tedious process.
There is no way to multi-select shows or episodes in your library. In Library > Shows, tap Edit and then tap the minus button to delete a show.
In Library > Downloaded Episodes, you must swipe to remove, one at a time. Like in Mail, you can either swipe left a short distance on an episode and tap the delete button, or you can swipe all the way across the listing to delete in one fell swoop.
Remember, podcasts are free. You can always resubscribe to a show or redownload any episode again later. Let me know if you have a special podcast management scenario you want to review.